Toddler Car Seats
Toddler car seats are now a legal requirement in most countries. Motor vehicle accident statistics worldwide show that children restrained in appropriate car seats have a much lower risk of injury.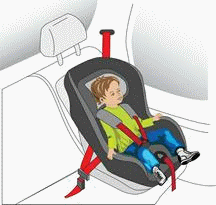 Until your child is large enough to use a normal standard seat belt, the most appropriate car seat for your child is dictated by your country's legislation based on your child's age, weight and height.
There are four basic types of child car seat.
The rear facing infant seat, the front facing toddler seat, the convertible car seat which can be used rear and front facing, and the toddler booster seat.

The tables below give a broad indication of which seat to use based on the age, weight and height of your child. Weight is regarded as the more important criteria.
Rear Facing Infant Seat
Front Facing Toddler Seat
Age - Birth to 12 months
Weight - Up to 9 kgs (20 lbs)
Height - Up to 27 inches
Age - 12 months to 4 years
Weight - 9 to 18 kgs (20 to 40 lbs)
Height - 36 to 57 inches
Infant Car Seat Page
Toddler Car Seat Page
Convertible Car Seat
Toddler Booster Seat
Age - Birth to 4 years
Weight - 3 to 18 kgs (5 to 40 lbs)
Height - Up to 57 inches
Age - 2 to 11 years
Weight - 15 to 36 kgs (33 to 80 lbs)
Height - Up to 57 inches
Convertible Car Seat Page
Booster Car Seat Page
However, you must always check on the legislation in your own state and country, and on the recommendations of the car seat manufacturers that supply your country.
Return from Toddler Car Seats to Toddler Safety

Return to Toddler Basics Home Page