Toddler Booster Seat
A toddler booster seat should be used when your toddler has out grown a normal car seat.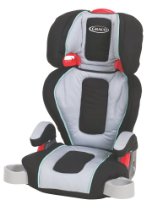 Most children over 4 years old, weighing between 40 and 80 lbs, and under 57 inches in height cannot ride safely using the normal adult seat belt as they are too small for the belt to fit correctly.
The booster seat ensures a closer fit for toddlers and raises them so that the adult seat belt fits correctly over their shoulders and hips.
As your child grows the booster seat back will become to narrow and when that happens it's time to move to a booster cushion.
This will keep your child raised and ensure the adult seat belt still fits correctly.
To facilitate this move many manufacturers produce booster seats with removable backs. The back is removed when your child outgrows it and the seat effectively converts to a booster cushion.
Always check on the manufacturer's recommendations though and follow their instructions carefully for installation and use.
The popular types of booster seat can be viewed in the Car Seats Store.





Return from Toddler Booster Seat to Toddler Car Seats

Return to Toddler Basics Home Page