Rear Facing Infant Car Seat
An infant car seat is designed to be rear facing. This is to satisfy the legal requirement in most states and countries that babies under 1 year old and under 20 lbs in weight must be transported in a rear facing car seat.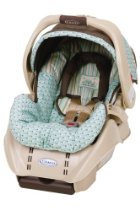 Most rear facing car seats are small with a carrying handle and a detachable base which can be left in the car. The base is held in place with the three anchor point adult seat belt.
The seat clicks in and out of the base which allows you to lift your baby in and out of the car without having to install and uninstall the car seat each time.
As the seat usually has a five point harness to provide maximum restraint, the ability to lift your baby out without undoing the harness and waking up your baby is a great plus factor.
Also some car seat manufacturers produce strollers into which your detached car seat can be clicked making it easy to move your baby undisturbed from one mode of transport to the next.
From a safety perspective, a rear facing seat should not be put in the front passenger seat of a car with an air bag. If the air bag inflates and engulfs the car seat it could suffocate or cause serious injury to your infant.
As with all car seats, always check on the manufacturer's recommendations and follow their instructions carefully for installation and use.
The popular types of rear facing infant seat can be viewed in the Car Seats Store.





Return from Infant Car Seat to Toddler Car Seats

Return to Toddler Basics Home Page