Convertible Car Seat
The convertible car seat can be used in a rear facing mode for infants and a front facing mode for toddlers.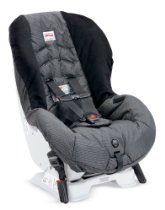 They have a higher rear facing weight limit than the infant car seat and can be used for infants up to 30 lbs in weight.
In the front facing mode they can seat toddlers who are over 1 year old and weighing up to 40 lbs in weight. Larger models can accommodate toddlers up to 65 lbs.
The seat should be held in place with a standard three anchor point adult seat belt.
Some can be held with a lap belt and some versions have special anchorage straps.
The seat itself normally has a five point harness to hold your child safely and securely. The seat is not portable like the infant car seat and stays installed in the car.
When used in the rear facing mode the front passenger seat should not be used unless the passenger air bag has been deactivated. It is safer to install the seat in the back seat of the car.
Always check on the manufacturer's recommendations though and follow the instructions for installation and use.
The popular types of convertible seat can be viewed in the Car Seats Store.





Return from Convertible Car Seat to Toddler Car Seats

Return to Toddler Basics Home Page