Toddler Travel Bed
It's a good idea to have a toddler travel bed with you if you are travelling with a toddler on holiday or visiting friends.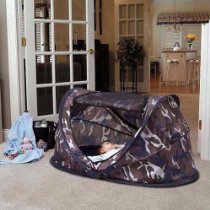 Toddlers do not not sleep easily in strange beds and when travelling you don't know what the sleeping facilities will be like at each place you visit.
Whereas if you take a portable travel bed, your toddler will always be able to sleep in a familiar bed.
Travel beds come mainly in four types. Inflatable beds, pod type tent beds, steel framed cots similar to army beds and framed crib beds.
The inflatable beds usually come with a foot pump for easy inflation. Because they are toddler beds they have high side walls to keep the child safely in the bed. They are light and easily portable when deflated.
Pod tent beds are like igloos with a zippered opening for access, they appeal to toddlers and their imagination. They are assembled easily and fold down to a compact circular shape for portability.
My grandson used one when he was taken to Europe on a four week holiday.
He stayed with relatives, in different hotels and self catering establishments but no matter where he was he had his familiar tent bed.
Steel framed cot beds can be used for older toddlers who don't roll around the bed at night. They are easily assembled and fold down to a compact size. They are like a camp bed.
Crib beds have high sides and are ideal for younger toddlers. Some come with a zippered side which allow children to get in and out on their own as they get older. They are relatively compact when folded and packed in their carry bag.
No matter which bed you think is the right one to use it is advisable to have your toddler sleep in it for a few nights before you set off on your travels. It needs to be familiar and liked to be sure you have no trouble when away from home.



Return from Toddler Travel Bed to Toddler Beds

Return from Toddler Travel Bed to Toddler Basics Home Page