Toddler Online Games
Toddler online games present an opportunity for you and your toddler to spend a pleasant time playing and doing things together.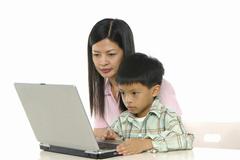 At the same time your toddler gains experience with the computer, keyboard, mouse and Internet.
An added bonus is that many of the toddler games online are free.
So you can check them out first and only play the ones best suited to your toddler's current stage of development.
You can play toddler games online that involve matching, learning numbers, shapes and letters, coloring in pictures or following simple adventure stories.
A selection of free online games for toddlers can be found at Fisher Price online games and activities. Here you are able to choose a game or activity suitable for an infant, toddler or preschooler. There are also lots of free printable pictures for offline coloring.
The online games available include an ABC zoo learning game, an animal sounds game, a musical instruments game, a click and color game and a count the score game. Check it out, it's worth a visit.
It's not the only source though. Throughout the Internet there are many online games for toddlers available. Some are good, some average and some poor.
A site through which my grandson and I have found some nice games is Little Kids Games Online. The toddler games section took us to some interesting and fun game sites.
Have a look and enjoy playing together!



Return from Toddler Online Games to Toddler Games

Return to Toddler Basics Home Page