Toddler Crafts
Release your Toddler's Creativity
Toddler crafts are the key to unlocking your toddler's creativity and imagination. All toddlers love playing with clay, coloring, drawing, painting and using glue.
Drawing and Coloring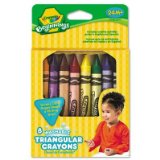 Thick crayons or large felt tip pens like white board markers are easy for toddlers to handle.
With a large piece of paper taped to a flat surface it's amazing what your toddler can create.
You can also join in by volunteering to draw or color something.
My grandson went through a phase of wanting to have mechanical diggers and crocodiles drawn.
Paints and Painting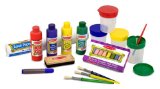 Painting is a big favorite, whether using brushes, sponges or fingers.
For younger toddlers, fingers and sponges are easier, albeit messier, but that's half the fun!
Admire whatever is created and put it up on public display.
You can also have a session of drawing mummy, daddy, grandma or pets. Painting them in silly colors or clothes or whatever pops into your toddler's head.
Make up shapes from sponges and dip them in paint and print them on the paper the options are limitless.

Playing with Clay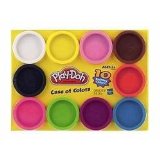 Clay or Play-Doh is great fun.
You can roll it, squeeze it, pull it, make imprints in it and make all sorts of shapes and things with it.
You can use it with other everyday things such as pipe cleaners, straws, egg cartons, cardboard tubes and paper plates to make all manner of things.
This is what toddler crafts are all about.


Crafting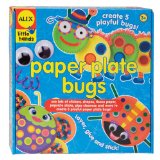 Take everyday things such as paper, paper bags, paper plates, egg cartons, cardboard tubes and boxes, straws, plastic bottles, and whatever else you can get your hands on, and craft something from it.
You can use glue, Play-Doh or string to assemble creations which are limited only by the imagination and creativity of you and your toddler.
Then you can color them with crayons or paint and give them texture with bits of cloth, wool, sequins or glitter.


---

If you need inspiration for toddler craft ideas you'll find the following site useful.
---
Toddler arts and crafts are an important element of a toddler's development.
By learning to use crayons, paint, clay and glue and then using these skills to create items of interest and fun with everyday objects, toddlers have an outlet for their imagination and creativity.
It provides engrossing stimulation for their brains and a great sense of pride and achievement in the result!



Return from Toddler Crafts to Toddler Activities

Return to Toddler Basics Home Page