Toddler Computer Games
Toddler computer games are usually designed to be played by toddlers aged three years and above. They are built around characters and themes that toddlers already love and enjoy.
Examples are Dora the Explorer, Bob the Builder, Care Bears, the Cabbage Patch Kids, Disney characters and Thomas the Tank Engine; but there are many more.
The games require toddlers to recognize numbers, shapes and colors, be able to match colors and shapes, to group similar objects, and to complete patterns.
As well as encouraging the honing of these basic skills they also teach toddlers to follow instructions and to practice using their memory and problem solving skills.
Some have sing along songs and music and opportunities for young ones to show their creative side as well.
Toddlers become quite skillful at using the computer keyboard and mouse while playing the game and gain a great sense of achievement by completing the game tasks.
The only problem for us as adults is knowing if it is a game suitable for our toddler. The Entertainment Software Rating Board (ESRB) has developed a standardized rating system for games.
The ESRB ratings provide information about the content in computer and video games so that anyone, particularly parents can make an informed purchase decision.
The ESRB ratings consist of two parts, Rating Symbols that suggest age appropriateness and Content Descriptors that indicate elements in a game that may have triggered a particular rating and/or that maybe of interest or concern.
Games suitable for toddlers have an Early Childhood or Everyone rating. More detailed information on the ratings can be obtained at the ESRB web site.


---
For greater detail and different perspectives of a game it's useful to do some research. The two sites below are useful resources in this respect.
---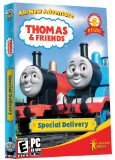 Computer games are another important component of a toddler's development.
They engage their brain, reinforce number, color and shape learning, problem solving and mental awareness while making them adept at using a computer or laptop keyboard and mouse.
Once competent at playing the games toddlers become engrossed for quite a while which is a nice break for non stop parents!




---
Return from Toddler Computer Games to Toddler Games

Return to Toddler Basics Home Page